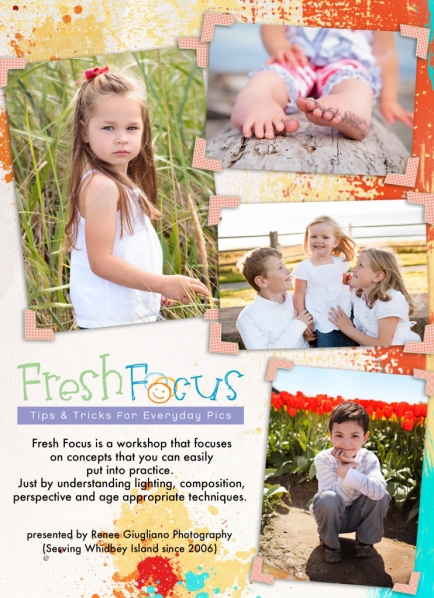 Enter to win a 3 day "One on One" workshop ($125.00 Value)!
Fresh Focus is a workshop that teaches parents how to take better pictures of their kids. It focuses on concepts you can easily put into practice, just by understanding lighting, composition, perspective and age appropriate techniques. Participants will have access to an easy to follow presentation that includes both in depth details and quick tips for common situations which will help them improve their photos immediately… just by taking the time to assess light, change up their angle, and remember a few quick tips.
Topics include:
Camera Settings
Learning Light
Composition
Tips for ages newborn and up
One LOCAL Winner Receives:
three days with 1 hour class with hands-on triaging along with practice shooting in different scenarios indoors and outside.
Image critique from each practice shoot.
Editing critique and help from each practice shoot.
Three days don't have to be consecutive, they can be every other day, every other week, etc.
*NEW Fresh Focus forum for continuous support and critique
Tips & tricks on-the-go card to keep on hand while you are practicing
Printed manual of the course to take notes in and keep at home
HOW TO ENTER…
STEP ONE: Post a picture of your child(ren) that was taken by YOU. This will need to be posted on the specific STEP ONE giveaway post on my Facebook page which is HERE.
STEP TWO: Head over to our Facebook page and enter our giveaway app HERE. This app gives us a way to choose randomly and contact you privately.
Mobile users, use this link HERE.
STEP THREE (optional): Share via the app entry form in step two and share this post too. Leave a comment letting us know you did! Make sure the sharing comment is separate from the picture comment so you get an additional entry. Share on your personal page, business page or in local groups. Each shoe is worth one extra entry. NOTE: General public will not get the details of this giveaway until May 16th. Giving you one day extra to enter, share and earn entries.
Terms…
You must be over 18 years of age and local to the Whidbey Island area to enter.
You must do the first two steps to be entered.
Last day to enter with your photo comment is May 31, 2017.
Facebook and Gleam are not sponsors nor are they associated with this giveaway.
Winner will be contacted via email as well as announced on my Facebook page on June 1st.
Winner must contact me within 48 hours after being contacted to verify their win and set up class dates/times.
Class dates do not have to be consecutive, they can be spread out as needed.
For more information about the Fresh Focus Workshop, click HERE.