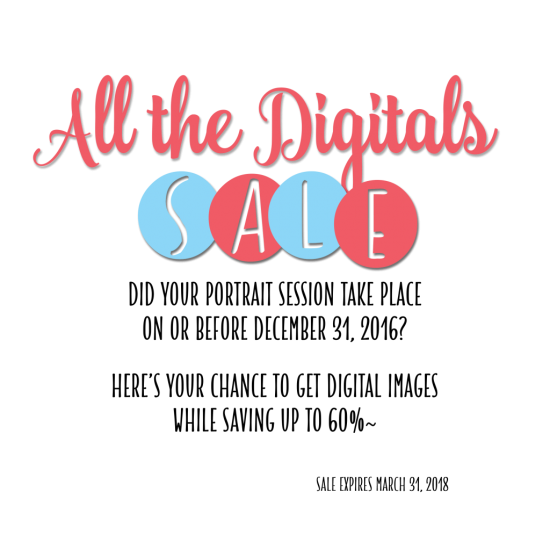 It's that time of the year when I need to remove sessions from my main drives and put them on my back ups drives. But this also means that some of my older sessions have to go. This sale is for clients whose sessions took place on or before December 31, 2016. No matter what type of session you had, you will receive all the images from your gallery. I have separated them into two categories:Mini and Full. Since there is a difference in proofs given for each session, I don't want to overcharge.
Mini Session: $195.00 per session (plus tax)
Themed Mini Sessions:

10-15 images $195
16-30 images $295

Full Session: 495.00 per session (plus tax)
30% off print products (if you still want prints, albums, collages, etc)
Don't need all of them?
Want to choose the images you want? Choose an option below and then contact me to get a gallery up so you can choose what you want.
5 Image Digital Collection: $110.00 (plus tax)
10 Image Digital Collection: $200.00 (plus tax)
15 Image Digital Collection: $255.00 (plus tax)
20 Image Digital Collection: $300.00 (plus tax)
30 Image Digital Collection: $400.00 (plus tax)
IMPORTANT INFO:
Download gallery will include all color images only in both high-resolution (printable up to 11×14) and web-sized.
No collages, cards, album designs available for download.
Lifetime personal print release included in the download gallery.
Download gallery will be available for 3 months.
Session from Jan 2011 through December 31, 2016 only. Not all sessions are guaranteed to be available.
SALE ENDS: March 31, 2018
Themed Mini Sessions from 2011 – 2013:
Cozy Christmas (2011)
Fall Frenzy – Fall (2011)
Curly Girly Model Search (2012)
Bathing Beauties – Vintage Baby Bath (2012, 2013)
Spirit-full – Halloween (2012)
School Portraits (2011, 2012, 2013, 2014, 2015, 2016)
Sprinkled With Snow – Christmas/Winter (2012)
Rock the Love – Valentine (2013)
Spring Garden (2013)
4th of July (2013)
Fall Inspired (2013)
Cool Winter – Christmas (2013)