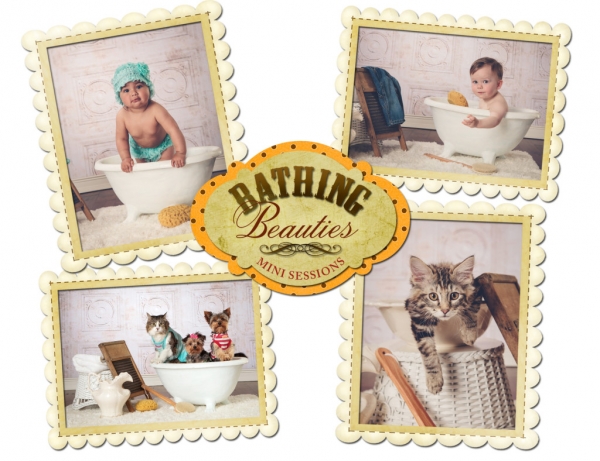 Bathing Beauties is one of our favorite annual sets. Kids have so much fun and parents love it!
Suggested ages for these sessions are 5 months through 2 years old. All babies must be able to sit up with no support. As always, fur babies (pets) are welcome as well! All fur babies must be under 25 lbs, house-trained, friendly with strangers, and obedient to their owners. If you have both a child & fur baby that would like to participate together, we can do that too.
Choose our studio set OR choose to have your session done at the Lavender Wind Farm in Coupeville.
Clothing is available to borrow or you can bring your own. We provide suggestions and preparation info ahead of time to help you with shopping.
Mini Session Includes:
30 minute in-studio mini session
Up to 3 children and/or pets
Group & individual poses
15-30 proofs to choose from
Print & Digital packages available
Complimentary web-sized images
Scheduling Information
Because my schedule is full for the next few upcoming weekends, I have chosen to make this set available from May 22nd through August 31st. What this means is that instead of having the set only available for 2 specific days in limited time slots, you may choose any date that works for you (date availability varies). You'll want to take a look below at the session options and then give me a call to set up a date and time for your session.
****Lavender Bathing Beauties**** at the Lavender Wind Farm is only available on weekday evenings at 7:00pm or 7:45pm. Please note that it will be breezy and a little chilly. All babies will need to wide awake with a full belly. IMPORTANT: Lavender will only be available for a few more weeks. Call to schedule your Lavender Bathing Beauties session ASAP!
Session Fees: Choose the option that best fits your needs! No matter what you choose, we will have ALL of our prints & photo products
available for ordering in our product menu.
Basic ~ $45 (plus tax):

Session only
Prints/photo products sold separately.
No minimum order requirement.

Print Session ~ $75 plus tax ($105 Value):

Session plus 1 8×10, 2 5×7's and 1 set (8) of wallets of you choice.
You may mix and match all images with exception to the wallets.
10% off any additional prints/products

Canvas Session ~ $140 plus tax ($165 Value):

Session plus 3 5×5 Canvas Wraps (images of your choice)
10% off any additional prints/products

Digital Session [Mini] ~ $145 plus tax ($245 Value):

Session plus 5 High Resolution Digital Images (of your choice)
Lifetime Personal Use Print Release
15% off any additional prints/products

Digital Session [Large] ~ $295 plus tax ($445 Value):

Session plus 10 High Resolution Digital Images (of your choice)
Lifetime Personal Use Print Release
15% off any additional prints/products