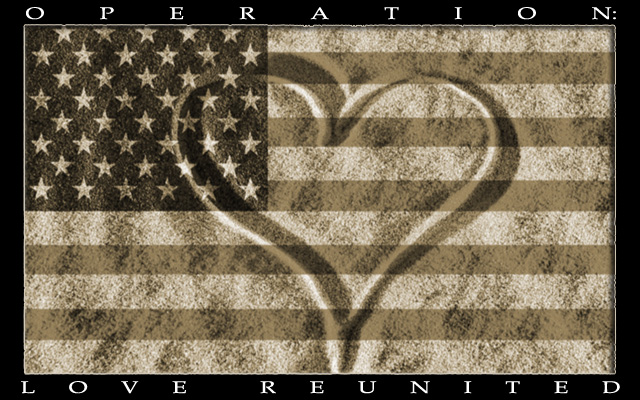 "What is 'Op:Love'?" you ask.
Op:Love (Operation: Love ReUnited) is a federal non-profit organization of professional photographers that have joined together to offer our military men and women FREE special sessions with their families. These patriotic sessions are designed to boost the morale of our service men and women in times of deployment. Military families are eligible for two sessions per year.
Requirements
As of September 2016, ALL deployments and tours OVERSEAS and for a timeframe of at least 4 months (for deployment session) qualify for OpLove services. If your loved one is already overseas and they have less than 3 months time before returning to the United States, you may only participate for a homecoming session. At this time CONUS TDY and PCS do not qualify.
The deployment must be a minimum of 4 months in length.
Only 2 sessions are allowed per deployment/year. The first is either a Pre or Mid-Deployment session. If it is a Mid-Deployment session, there must be at least 60 days left of the deployment to qualify. Otherwise, you will only be able to receive the homecoming session. The second is ONLY the homecoming session, which is done at the actual time of the family reuniting, not afterwards.
What's Included for Pre & Mid Deployment Sessions
Free patriotic portrait session with your family prior to deployment -OR- family session while active member is deployed (deployment must have at least 60 days left).
15 prints from your session shipped directly overseas. This gift is about boosting the morale of our military while they are away from their loved ones and giving them photos to look at and hold onto.
15% off print, digital images and other products (This discount is offered by Renee Giugliano Photography as an additional to OpLove requirements)
Request a Session
Click HERE to fill out and submit a Session Request Form. The OpLove organization will then verify eligibility regarding deployment length & location, as well as other basic information.
Once you have completed this form, you will be redirected to the Photographer Map to research and contact me.
I will then respond to set up a date, location and go over further details and info.
Please note that I am currently the ONLY registered OpLove photographer on Whidbey Island. Because of this, I may be limited for session dates.
**Due to my inability to be as flexible as needed for changing arrival times and locations for homecoming sessions, I am available for Pre & Mid Deployment sessions only.**
If you are a professional photographer, and would like to apply to join OpLove, please click HERE.